Home renovations are an excellent way to improve the value of your home. Not only do they increase its marketability, but they also provide you with a fresh start and a new perspective. But before you get started on any home renovation project or DIY house work, it is important to plan ahead so that you can avoid costly mistakes and maximize the benefits. Renovation projects and home upgrades can make your house look livelier and will give off a different aura than before, and that's a good thing!
In this article, we will discuss some house improvements and home upgrades for home renovations from home buyer tips that may be helpful in your next house improvement project!
Living Room Renovations
There are a lot of living room renovations that you can do like adding new flooring or replacing your furniture. One of the smallest living room renovations that you can do is to add window dressings such as blinds, curtains, and valances. Window treatments will help with reducing glare from outside lights which could be difficult when watching TV in the evenings. Blinds are also practical because they provide privacy by allowing you to control how much light comes in and out of your windows and doors while still giving you an unobstructed view outdoors during daytime hours! Another small living room renovation would include painting walls using neutral colors like white, grey, or tan; this allows for flexibility if future buyers want to repaint their home according to personal preference (which many people change frequently).
Kitchen Upgrades
The kitchen is one of the most popular rooms in any home. Many people spend a lot of time cooking and socializing here, so it's important to make this room as inviting as possible! One of the kitchen upgrades that you can do would be to replace your old countertops with new ones like granite or quartz stone; these materials are very durable and will look great for years to come (and they don't need much maintenance at all!). Another one of the kitchen upgrades you can do would include painting the walls using neutral colors again but including some accent wall color such as blue which provides an extra pop of personality without being too distracting when enjoying meals.
Bathroom Upgrades
The bathroom is another high-traffic area in many homes today because more families have multiple members. This means that the bathroom needs to be comfortable and practical for everyone. One of the bathroom upgrades you can do would be to replace your old bathtub with a new one that has a whirlpool or Jacuzzi feature; this will add some luxury and relaxation after a long day! Another one of the bathroom upgrades you can do is to install new floorings such as ceramic tiles, marble, or granite. These materials are durable and easy to clean so they're perfect for busy families.
Home Office Upgrades
The home office is becoming an increasingly popular space in many homes today because more people are working from home. If you want to renovate your home office, there are a lot of great options like adding new furniture or upgrading your home office equipment. One of the home office upgrades you can do is to replace your old computer desk with a new one like an L-shaped or pedestal style which will provide more room for storing items and add some extra storage space in larger homes!
Bedroom Upgrades
Your bedroom deserves a bedroom upgrade just as the rest of your house does. Bedroom upgrades like new furniture, bedding, and window dressings can make your bedroom feel brand new! Adding a fresh coat of paint to the walls in a light color is another great way to give your bedroom an instant upgrade. And don't forget about adding some personality with some new artwork or photographs!
Your bedroom is one of the most important rooms in your house because it's where you spend a good chunk of your time every day resting and relaxing. That means that it should look great and be comfortable at the same time! These are just some bedroom upgrades that you can add to make this room feel brand new again; there may be others depending on what kind of style and preferences you have when decorating or renovating your home.
Hallway Renovations
Your hallway is where everyone who goes into your house passes. Of course, it deserves a renovation. You can upgrade your hallway by repainting the walls, adding new flooring, and installing a coat rack or bench. You can also add some personal touches like family photos or paintings to make it feel more like home.
By taking the time to renovate different parts of your home, you'll be able to add features that will improve your quality of life and make your home feel brand new again!
Calculate the Costs
You must know the costs associated with your home upgrades because they might add up quickly. It may be helpful to speak with a contractor who specializes in home renovations and upgrades so that they can give you an idea of what it will take to complete your renovation project from start to finish.
You should also think about the cost of hiring a professional if you want some specific features added like new plumbing or electrical work which requires special expertise; this is something that's usually avoided by homeowners because many people aren't familiar with how much things cost when you hire professionals for these tasks! If there are certain aspects of your house addition projects that require extra training, make sure you include those costs as well.
You must be prepared to cover the costs involved when renovating your home because it can be a costly project. Make sure you have an idea of how much you'll need to budget for all of these factors because you don't want to end up with surprise expenses that you weren't prepared for! But, in the end, it will be worth it because you'll have a beautiful and updated home that you can enjoy for years to come!
Make Sure You're Ready
Before making any home improvements or adding house upgrades, it's important to assess whether or not you're actually ready for it. Adding a home addition can be a lot of work, and if you're not prepared for it, the project can quickly become overwhelming.
Make sure that you have enough money saved up to cover the costs of your renovation project, and make sure you have plenty of time set aside to complete the project as well! You don't want to start renovating your home and then realize halfway through that you don't have the resources or time to finish it.
Final Thoughts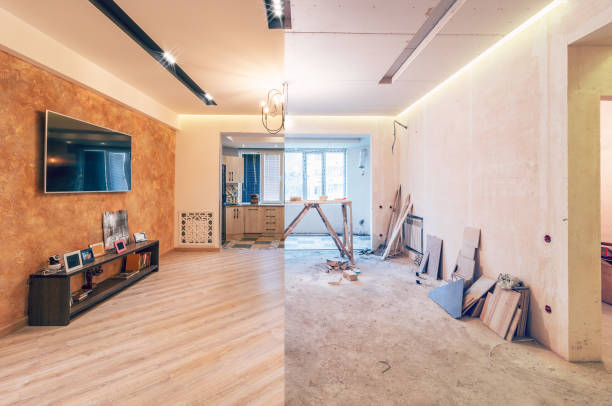 These are just a few examples of house improvements and home upgrades for home renovations that you can do to improve your home. By planning ahead and taking your time, you can ensure that your renovation project goes as smoothly as possible and provides the most value for your money!
Most house improvements and home upgrades described in this article are about house renovations which include many popular renovation projects that homeowners have been enthusiastic about recently! These include upgrading kitchen appliances, living room flooring options, bathroom fixtures, adding window treatments to bedrooms and family rooms as well as tips for planning ahead during your next house improvement project. After reading this article, hopefully, it's clear that there are a lot of different types of house improvements and home upgrades when renovating a home so plan accordingly before starting your next home renovation project!